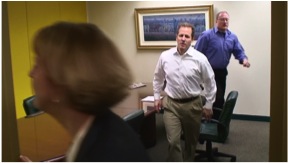 Team members in an office building demonstrate their emergency evacuation procedure
TeamReadiness
®
helps teams of all sizes to be fully prepared to carry-out their duties. Using video, photographs and online tools, we quickly and affordably capture the knowledge that team members need to do their jobs – procedures, plans, processes, check-lists, best practices, policies, reports, etc., so it can be securely stored online and shared with others for reference, training, communications, and collaboration.
Capturing Knowledge
TeamReadiness
®
captures knowledge in two ways. First, we can video team member "experts" as they demonstrate or present important information. This may be videoing a team member showing the proper procedure for:
Operating a building's cooling tower
How to use a computer software application
Assembling a product or setting up a production line
Cleaning a hotel room
What to do in the event of fire
How to operate or maintain a product
Etc.
It could also be videos showing, with great clarity, current production or test problems so they can be viewed and analyzed quickly and securely with engineering team members around the world for rapid resolution.
Supplier quality issues
Manufacturing and assembly problems
Issues discovered during product testing
Field service problems
Etc.
Or, it could be to communicate important policies regarding:
Sexual harassment
Alcohol consumption
Vacation & holiday coverage
Sick days
Etc.
The list of possibilities for knowledge capture is endless and focuses on facility management and operations management for all industries and organizations (property management, manufacturing, retail, health care, not-for-profit, etc.). We edit and transform the videos to create succinct, sound bite video presentations, training courses, or printable task sheets/ checklists that are highly visual and easy to understand and follow. Another way that TeamReadiness
®
captures knowledge is by providing online tools for securely documenting and storing information as it happens in the form of reports. A report wizard can quickly generate customized reporting templates in either a word processing format or a spreadsheet format. Examples include:
"End of Shift" reports
Disabled/special needs list in case of emergency
Work orders to capture and manage job requests
Vehicle mileage and maintenance records
Etc.
Sharing Knowledge - Team members sharing with team members builds strong teams
TeamReadiness® is all about the team. We enable individual team members to capture and share their knowledge, skills, and capabilities with other team members in order to build the strongest, most prepared, highest performing team possible. TeamReadiness® directly influences several factors that fuel a team's ability to achieve their mission successfully (see Readiness Capability Model). Among them are:
Easy access to helpful information
Quick reference materials for completing tasks
Visible and interactive comment fields that enable collaborative problem solving and continuous improvement
Training that is specific to the skills needed and accommodates a wide variety of learning styles Personalized & customized "Certificates of Completion" that can be automatically generated and emailed when a team member passes a test tailored to any topic.
Strong teams also require a culture that fosters learning, enhances morale and creates esprit de corps. TeamReadiness
®
directly influences these factors vis-à-vis:
A team member is honored when asked to demonstrate a procedure or share a best practice
Peer recognition and respect that comes from making a video or task sheet that is shared and used by others
The energy & pride that comes from having to pass a test or become certified in a specific area of expertise
The satisfaction that comes from having the information to complete even the most complex jobs successfully
The focused and enhanced learning that comes from being asked to teach something to others
The spirit of cooperation fostered when people are asked to contribute and participate in readiness activities
The appreciation and respect of the organization and share holders because teams are consistently able to deliver results.
TeamReadiness
®
improves productivity, quality, service, life safety, and both customer and team member satisfaction. As a result, costs can be lowered and revenues and profits increased.