1. Procedures, Checklists, & Job "How To's"
How to do a particular job, operation, roles & responsibilities, etc.
2. User Manuals & Handbooks
User manuals, instruction manuals, product manuals, service manuals, repair manuals, installation manuals, assembly manuals, etc. for equipment, products, software, tests, repairs, etc.
3. Emergency Plans
Fire, severe weather, medical emergencies, etc.
4. Corporate Policies
Expected behavior, Employee Handbooks; rules governing sexual harassment, alcohol, vacation, hostile work environment, etc.
5. Best Practices & Lessons Learned
Experiential wisdom, After action reports, post-project reviews, benchmarking, customer visit reports, etc.
6. Tools & Techniques
How to use things like Six Sigma, measuring machines, budgets, etc.
7. Process Documentation
New Product Development, Supply-chain Management, ISO 9001, etc.
8. Demonstrations
Product features & benefits, techniques, failure modes, "what not to do," etc.
9. Change Initiatives
Implementation activities for new processes, policies, programs, systems, etc.
10. Problem Solving & Collaboration
Documentation & comments from team members, suppliers, etc., working together to solve design, manufacturing, service, issues, etc.
11. Report Templates (Custom, Online, & Secure)
End-of-Shift Reports, Disabled List, Mileage Logs, Minutes, etc.
12. Presentations, Events, and Communications
Presentations, conferences, announcements, etc.
13. Strategic Alignment
Communicate your strategy, mission, values, program objectives, goals, etc.
14. Leadership Development
Programs aimed at developing leaders and managers, etc.
15. Compelling Stories
Team members, customers, suppliers, etc., telling stories that inform, inspire, and entertain.
and more...!
---
TeamReadiness®' Easy Knowledge Capture Process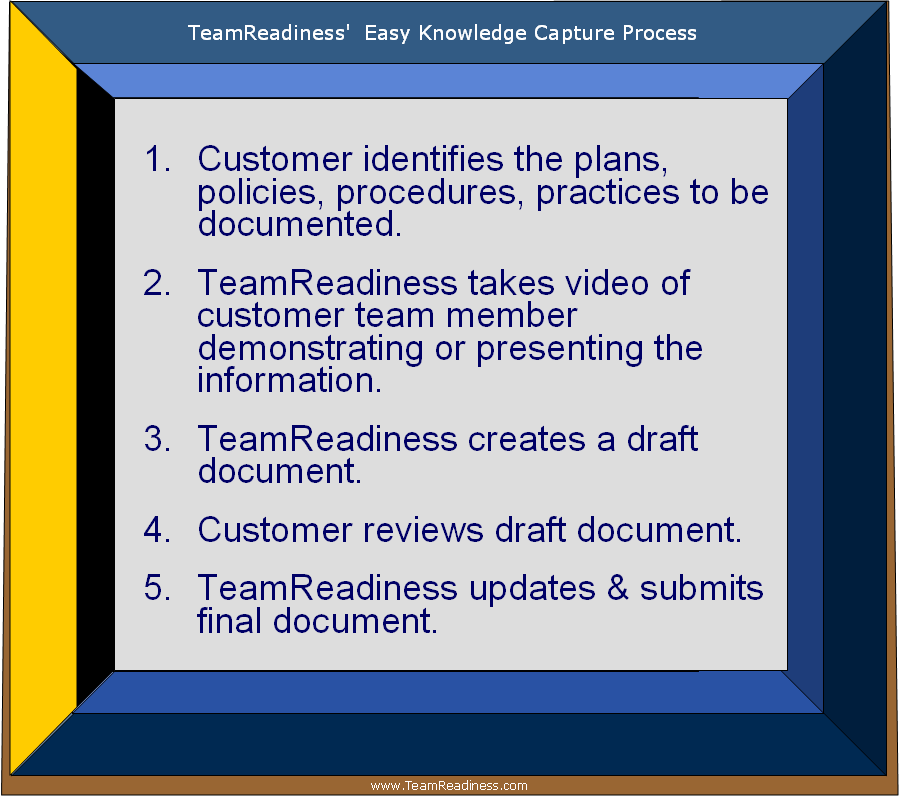 (Click image to enlarge)
You demonstrate your procedures, policies, etc., and we turn it into easy to understand documentation for:


---
TeamReadiness' Mission:

Easily capture and share knowledge so that people know how to do their jobs, and can do them well.



---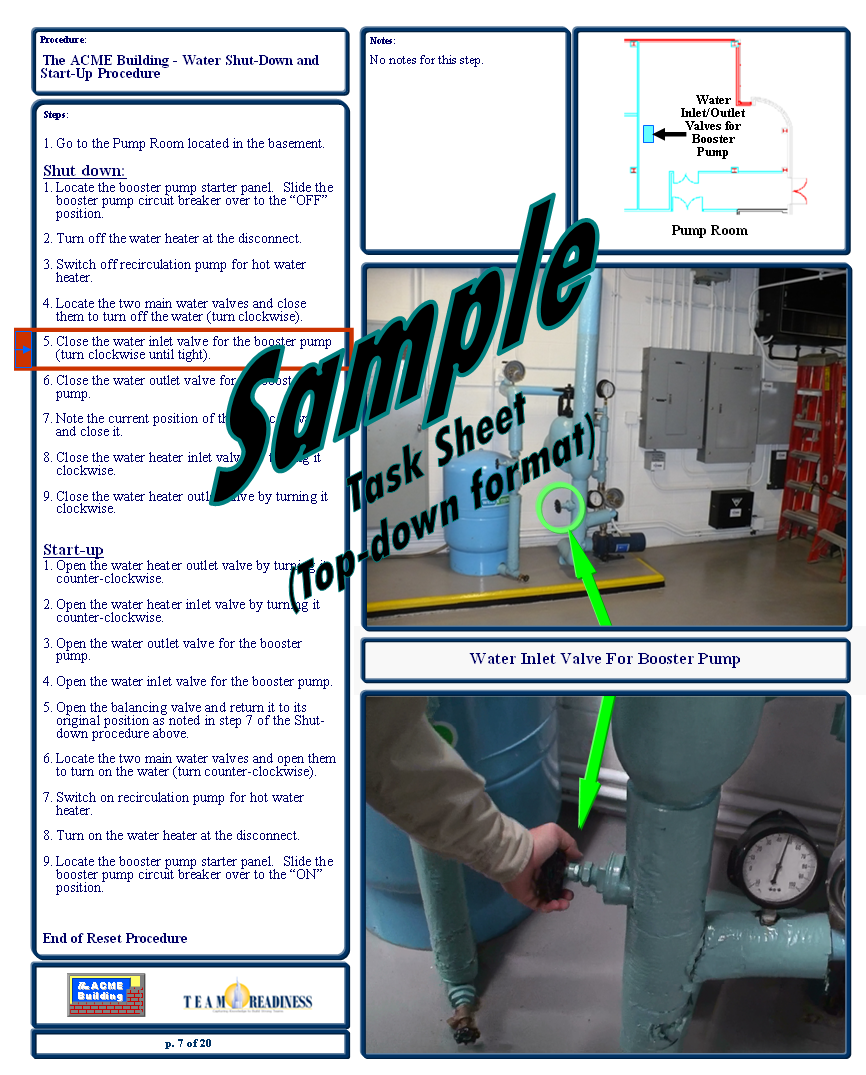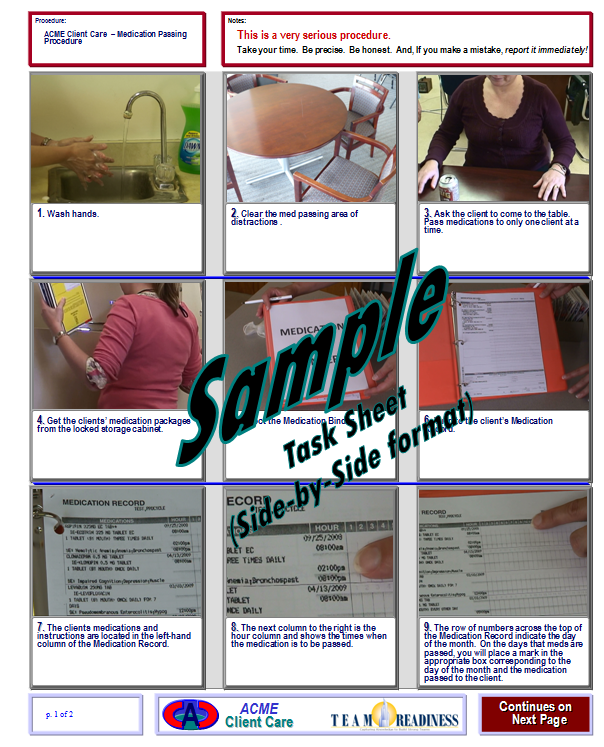 Sample Task Sheets
(Click images to enlarge)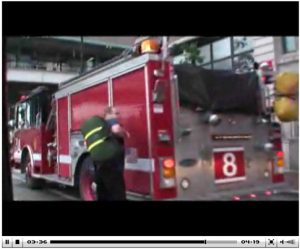 Screenshot: Fire Safety Plan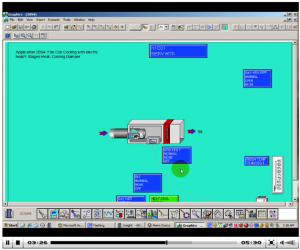 Screenshot: Software Application Procedure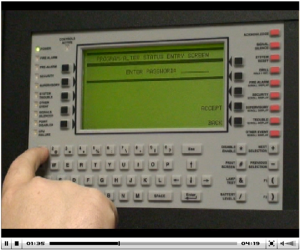 Screenshot: Control Panel Operation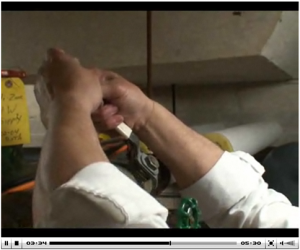 Screenshot: Repair Procedure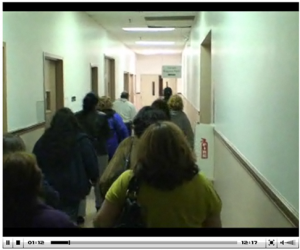 Screenshot: Facility Tour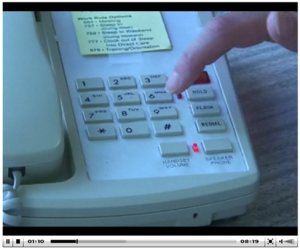 Screenshot: Telephone System Operation