5 Key Enablers to Achieving Team Readiness
To achieve readiness – The ability of a team to optimally carry-out its mission; to perform as expected and deliver consistent results, the team must be prepared, able to adapt, and accommodate the often difficult and ambiguous challenges it faces. While there are many factors that affect team readiness (leadership, resources, techniques, etc. – see TeamReadiness Capability Model), there are 5 key enablers that facilitate and give power to the factors affecting readiness capability. These 5 enablers make achieving team readiness more probable. Critical to the enabling process is the ease of execution. "Ease" is a function of doing something with minimal time, effort (hassle), and cost.
–
1. Create & Document Information – Easily
Critical information for the team's success must be identified, developed, and documented so it can be shared with others. For the documentation to be of value, it must be relevant to the team member's job, helpful in achieving desired results, and easy to understand. To the extent that team members have difficulty documenting — perhaps because it is a disruption to the current workload, or the documentation process is difficult, or because of insecurities someone has about sharing knowledge — important information will not be documented.
Best Practice: Use TeamReadiness to facilitate and document team members as they demonstrate, communicate, and explain their important information. TeamReadiness deals with the documentation task while team members just need to explain what they already know and do well.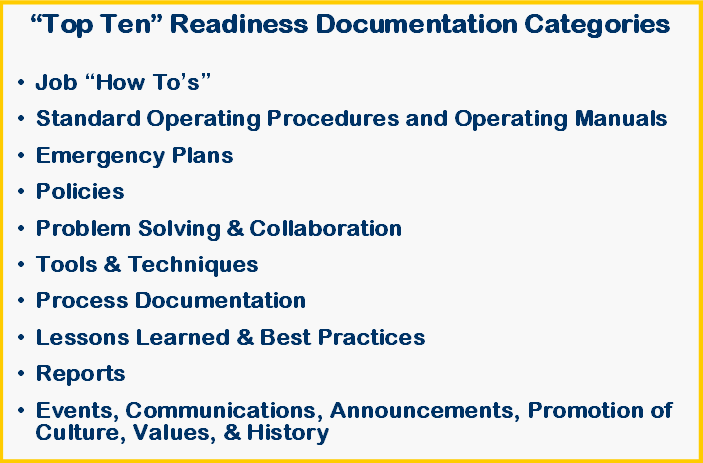 2. Secure & Share Information – Easily
Information must be stored in a safe place, where it will not be lost, destroyed, or fall into the wrong hands. At the same time, it must be accessible to those who need it, when they need, and where they need it.
Best Practice: Use TeamReadiness' TRM On Demand™ software to secure and control important information so it is protected and can be shared with those who need it, when they need, and where they need it.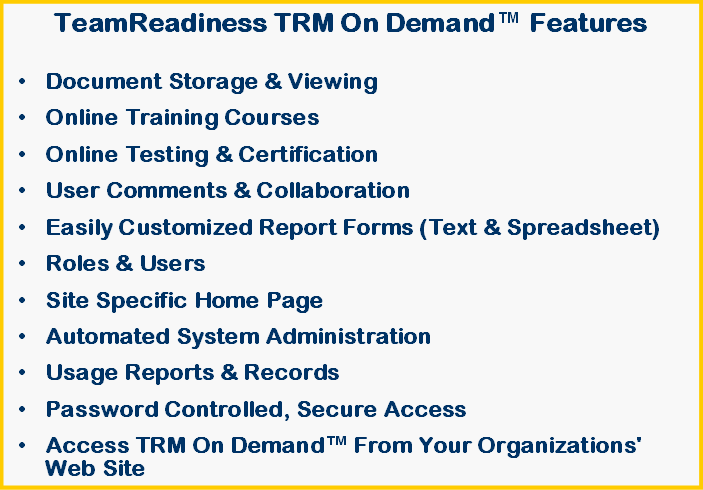 3. Collaborate & Build Consensus – Easily
The value of information increases as it is used, evaluated, and improved by other team members. Depending on the complexity of the information and the tasks at hand, collaboration can be especially helpful when team members have a diversity of opinions, insights, and experiences. As this happens, comments must obtained and reviewed amongst the team so that consensus is built and information is optimized for clarity, direction, and problem solving.
Best Practice: Use TeamReadiness' TRM On Demand™ software to capture comments alongside documentation that define, explain, show, and find solutions to problems.
4. Use & Leverage Information – Easily
Information must be easy to access and understand. It must be applicable and relevant for the intended use, or to support the mission in question. Team members have to know that the information exists and is available to them. Often, information is used and leveraged to make incremental innovations, find solutions to new challenges, or expand the organization into new market opportunities (learning algebra leads to calculus).
Best Practice: Use TeamReadiness to capture important and relevant information so it can be used for learning, achieving results, building a more competent team, continuous improvement, innovation and expansion of opportunities.
5. Administer Information Creation, Use, and Security – Easily
The creation and management of information must be relatively easy. To the extent that it is time consuming, difficult, frustrating, slow, disruptive, or costly, it will either not be done or marginally utilized. The benefits will only be realized to the extent that team members participate. Participation is a function of benefit and ease of use.
Best Practice: Use TeamReadiness and TRM On Demand™ to facilitate and enable the process of creating, documenting, and sharing knowledge. TRM On Demand™ TeamReadiness Management software is easy to use and requires little training and time to administer.



DMW

TeamReadiness™ can help!
Copyright © 2007-2011 TeamReadiness, Inc.