TeamReadiness®' Capability Assessment Model:
A self-diagnostic, best practice framework, to help teams of all sizes assess their ability to optimally carry-out their mission.
The TeamReadiness
®
Capability Assessment Model is a self-diagnostic framework to help assess an organizations' or teams' ability to optimally carry-out its mission.  The scope of the assessment can range from the entire organization to an individual team member, job function, or incident.   The model examines seven factors that seem most correlated with readiness capability (based on TeamReadiness
®
implementations and benchmarking). The model can be used to help team's understand where they are and chart a course for where they want to go to achieve TeamReadiness
®
.
Are you ready?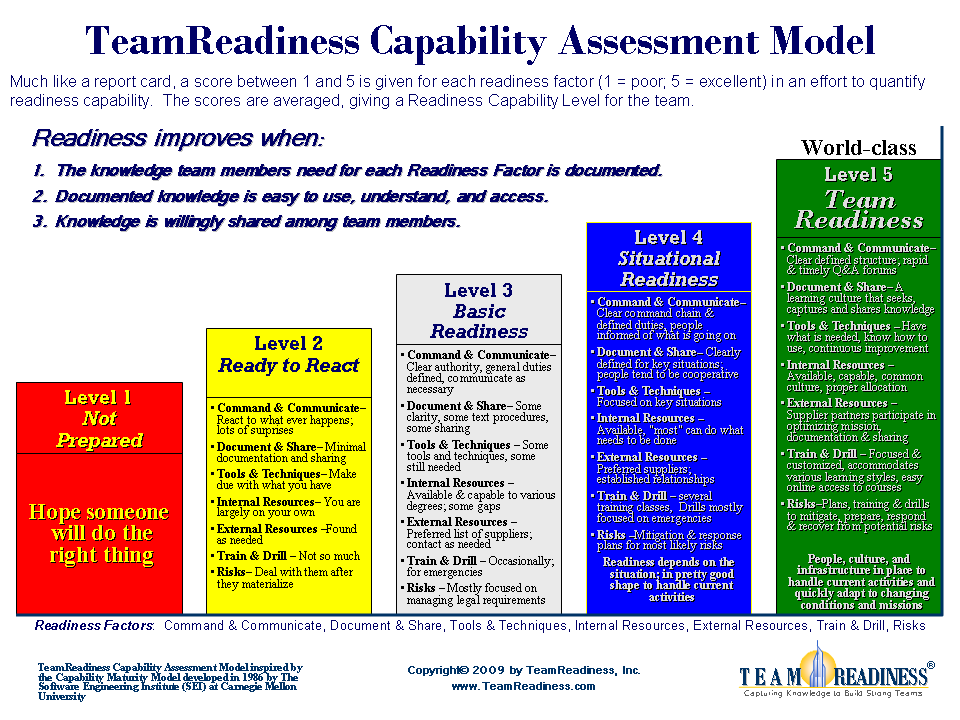 (Click image to enlarge)
Command & Communicate

– Clear mission, purpose, and criteria for success.  Clear responsibilities for authority, job responsibilities, deliverables, metrics, and accountability.   Processes and policies for achieving expectations are defined, communicated, and understood. Communication channels are open, timely, and quick to keep people informed and answer questions regardless of the situation or location.  Surprises are minimized. Incident risks are mitigated, but preparations are made. Incident response and recovery is rapid.


Document & share – A "learning culture" that willingly and cooperatively seeks to capture and share knowledge, procedures, best practices, plans, processes, policies, etc., for carrying-out the mission.  Knowledge is maintained and secured in up-to-date, easy-to-access, easy-to-understand formats. The organization is quick to adapt to new and challenging assignments. Continuous improvement is deliberately pursued, especially regarding suboptimal parts of the operation.



Tools & Techniques

– Organization has the tools & techniques it needs to optimally carry out its mission.  People know how and when to use them, and their strengths and limitations.  Training & procedures are readily available on the specific tools & techniques used by the organization.  Online & collaborative tools are available any time, any where. Organization consensus on how to approach problem solving; how to use tools; and how data is analyzed.  Clear approach to problem solving with minimum "finger pointing."



Internal Resources

– People and systems are available and capable within the organization.  Individuals can get help or direction from others as needed.  People share the organizations values and they get things done.  The workload is properly distributed and individuals can focus on achieving their mission effectively.


External Resources – Relationships with capable people, suppliers, first responders, and others who are outside of the organization are established so they can be utilized when necessary.  Information and best practices are regularly shared.  Important information and documentation is available, secure, and accessible to those who need it.


Train & Drill – Relevant, customized training programs are created, accommodate multiple learning styles, and are accessible online.  They can be delivered just-in-time to accommodate the changing needs of the mission and minimize "forgetting."  Drills are conducted to demonstrate and test team member readiness prior to an actual situation that really matters.



Risk Management

– Plans & actions are taken to mitigate, prepare, respond, and recover to a number of potential risks. Team members regularly train & drill on those risks that could occur and cause trouble or a disruption to the operations. Typical risks included process or procedure breakdowns, accidents as result of executing a process or procedure, liabilities associated with products or services, man-made disasters or attacks, and natural disasters.